Terengganu state on the East Coast of Peninsular Malaysia has some of the most spectacular beaches and island getaways in Malaysia and in Southeast Asia. Clear turquoise waters and fine sandy beaches that has less crowds than neighbouring 'party' beaches and islands.
One of Terengganu's best hidden treasure is Pulau Tenggol.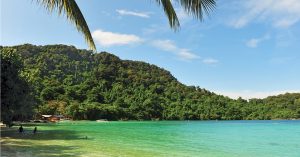 Where is Pulau Tenggol located?
Pulau Tenggol is an island off the coast of Terengganu, and is part of the Terengganu Marine Park. Measuring only 3km in length and 2km in its longest width, this small island is least known to tourists as it was previously uninhabited. As such, Pulau Tenggol offers pristine marine life that is relatively untouched by tourism, which makes it the most popular choice among divers. 
Now, only three small resorts are set up along the main stretch of beach. These three resorts are also responsible for managing the private boats that ferry visitors from Kuala Dungun Jetty to Pulau Tenggol Jetty.
Pulau Tenggol is the best island for scuba diving in Malaysia
Due to its less known and less touristy nature, Pulau Tenggol is said to be Terengganu's best kept secret island. It is secluded, serene and is well-known among the diving community as the best island to dive in Peninsular Malaysia. Highlights during scuba diving in Pulau Tenggol includes diving with whale sharks and rare turtle species!
When is the best time to visit Pulau Tenggol?
The best time to visit Pulau Tenggol is between March to end of October. Divemasters suggest going to Pulau Tenggol around October as the visibility is usually the best around that month. 
From November to the end of February is the monsoon season in the East Coast of Malaysia, and the island around Pulau Tenggol are off-limits to tourists.
How to get to Pulau Tenggol from Kuala Lumpur?
One way to get from Kuala Lumpur to Pulau Tenggol is to fly from KL to Kuala Terengganu or Kerteh Airport. From there, you can hop on a taxi or a bus to Kuala Dungun Jetty. Once at Kuala Dungun Jetty, the only way to get to Pulau Tenggol Island is by private boat transfer via the resorts or dive centres.
You can drive by car from Kuala Lumpur to Kuala Dungun Jetty and then take the private boat to get to the island. This way requires you to leave your car at the Kuala Dungun Jetty. You can also et to Kuala Dungun from Kuala Lumpur by bus, which takes approximately 7 hours.
Sunway Travel offers tour packages to Pulau Tenggol that include accommodation at Tenggol Island Beach Resort and private boat transfer from Kuala Dungun Jetty to Pulau Tenggol Jetty.
10 best scuba diving sites in Pulau Tenggol
Pulau Tenggol is a truly hidden gem for divers. There are more than 20 dive sites around Pulau Tenggol that cater to different levels of divers from beginners to the more experienced.  
Easy Dive Sites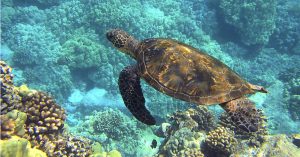 Turtle Point 
At Turtle Point, conditions within the bay are usually calm and clear, which makes this dive site perfect for inexperienced beginners to enjoy a nice and relaxing dive. It is also a popular site for training dives.
Depth: 5m to 19m
Average visibility: 10m – 15m
Highlights: small nudibranch, sting rays, angel fish, turtles
Dive tip: Perfect for beginners
The Lost World 
Teluk Rajawali is another dive site with consistent depths that flatten out around the northwest tip of Pulau Tenggol. Its huge reef leads right to 'The Lost World', an area that is totally covered in hard and soft corals, sea whips, sponges and anemones. This thriving dive site is full of life and is a great spot to seek for micro sea life.
Depth: 10m – 18m
Average visibility: 5m – 15m
Highlights: sea anemone, micro sea life, baby blacktip reef sharks
Dive tip: Great for snorkelling too!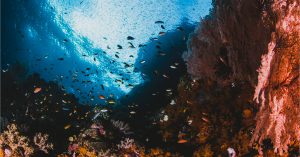 Coral Garden
As its namesake, Coral Garden is made up of smaller rock formations that are teeming with pretty corals on its every inch. With calm conditions and shallow waters, here is where you can get the most Instagrammable shots of corals in a rich array of colours and species.
Depth: 5m – 18m
Average visibility: 10m – 15m
Highlights: Maze corals, boulder corals, table corals, brain coral formations, rare shrimps
Dive tip: Very Instagrammable! 
Easy to Intermediate Dive Sites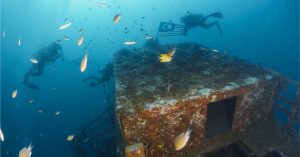 Fisherman Wreck
Three minutes from Tenggol Coral Beach Resort, is a fishing boat that sank in an upright position. It is approximately 20m long, and bustling with underwater life when night falls. Fisherman Wreck is used as a training dive site for advanced open water course or wreck diving, and is also one of Pulau Tenggol's most popular night dive sites.
Depth: 14m – 20m
Average visibility: 10m – 15m
Highlights: long arm boxer shrimps, puffer fish, baby leopard sharks
Dive tip: Try night dives here!
Gua Rajawali
At the Northwest tip of Pulau Tenggol, Gua Rajawali starts as a shallow reef that leads to a sand floor with abundant soft corals and sea whips. The depth drops faster as you get further north, closer to Rajawali Reef and Tanjung Rajawali.
Depth: 8m – 25m
Average visibility: 10m – 15m
Highlights: yellow snapper, triggerfish, manta rays, eagle rays in deeper depths
Dive tip: Generally a gentle drift dive
Tanjung Sarang Lang
Tanjung Sarang Lang is located at the most southwestern tip of Pulau Tenggol. Far out, it is one of the least visited areas of the island. If you're diving here, you would need to watch out for the surge waves that can throw you from side to side, over 6m! 
Depth: 12m – 20m
Average visibility: 10m – 15m
Highlights: yellowback fusilier, stingrays, blue-spot stingrays
Dive tip: Watch out for surge waves!
Batu Chachang
A dive at Batu Chachang begins with a drop off over shallow waters, close to the island. Here, you can expect mild to moderate currents that drift you along a coralline with large rock formations.
Depth: 12m – 25m
Average visibility: 10m – 20m
Highlights: coralline with unusual rock formations
Dive tip: Appreciate the rock formations as you descend from Batu Chachang into 'The Edge'
Intermediate to Expert Dive Sites
The Edge
At an especially large rock, off the Batu Chachang dive site, there is a sudden drop down into the deep blue ocean floor from 17m. This dive site is aptly referred to as 'The Edge'. Here, you can follow the currents for an enjoyable dive.
Depth: 12m – 30m
Average visibility: 10m – 20m
Highlights: pelagic fish
Dive tip: Go with the flow and let the current push you along
Tanjung Api and Sri Nokhota
The Tanjung Api and Sri Nokhota dive sites are located at the most western tip of Pulau Tenggol. As such, strong currents are common here. We recommend that you visit Tanjung Api and Sri Nokhota only if you are an experienced open water diver. The side is characterised by steep rock faces that extend deep down into the ocean floor.
Depth: 12m – 35m
Average visibility: 10m – 25m
Highlights: angel fish, nudibranch, humphead parrotfish, batfish, manta rays
Dive tip: This is a special action dive with strong currents, only approach if you are experienced!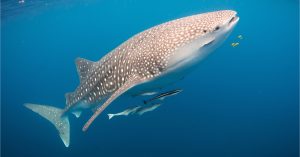 Tokong Timur
Last but not least – Tokong Timur, the most famous dive site in Pulau Tenggol. Tokong Timur proves to be an awesome dive site all year round, but the main attraction for divers are the whale sharks that can be spotted swimming and feeding around the area between August to October. Currents can be very strong here with an undertow on the western side, thus it is more recommend to suit divers with intermediate to expert level experience.
Depth:12m – 35m
Average visibility: 15m – 30m
Highlights: batfish, great barracuda, whale sharks
Dive tip: Dive with whale sharks! Try out your luck between August to October
BOOK YOUR CUTI-CUTI MALAYSIA ISLAND GETAWAY WITH SUNWAY TRAVEL!
Craving to feel the sun on your skin, sand beneath your feet and seawater in your hair? 
Sunway Travel have got you covered with a series of island tour packages to Pulau Tenggol and many more island destinations around Malaysia! Prices start from only RM240* per person. Hurry, book before the travel period ends!
Check out all the available Cuti-cuti Malaysia Island Tour Packages here: https://www.sunway.travel/packages/domestic-eastcoast-region/. T&Cs apply.
……
This article is intended to convey general information only. It does not constitute advice for your specific needs. This article cannot disclose all of the risks and other factors necessary to evaluate a particular situation.
Any interested party should study each situation carefully. You should seek and obtain independent professional advice for your specific needs and situation.